My 1-90 retail WoW speed leveling guides are no longer for sale due to the TomTom mod not being supported any more :(
If TomTom ever gets updated again or if I find a way to implement arrows back into my guide, I will then sell the product once again. If anyone out there can help me implement the arrow system back into the guide, please contact me!
I am currently spending all my time working on making an Overwatch Strategy Guide, check it out!

My recommended 1-100 Retail WoW speed leveling guide:
There is another great WoD 90-100 guide out now that is just as effective as mine if not even better. My good friend Dugi and I have been producing awesome guides for WoW since 2005 and his work is just as outstanding as mine when it comes to guide quality.

Dugi's in-game leveling guides work similar to mine with a waypoint arrow that directs you where to go and what to do, but his guides even take it a step further with steps that auto updates to the next step after they get completed, which makes things a little more seamless.
Dugi's simple to use automated in-game guide with waypoint arrow:


I highly recommend getting Dugi's leveling guides as they will help you level through WoD with ease just like my leveling guides did.
Dugi's 90-100 WoD Guides are Available Now

A Rundown of what you can get from Dugi's WoW Guides:
You can get the "complete package" of Dugi Guides at $47 for one year.

The complete package is all 4 of their in-game guides (Leveling, Loremaster & Dungeon, Daily & Events, Achievement & Profession for both Alliance & Horde)

Includes all WoD Expansion Updates

100% money back guarantee (just like how my guides are), so it's definitely worth a try.
Check out Dugi's in-game guide menu: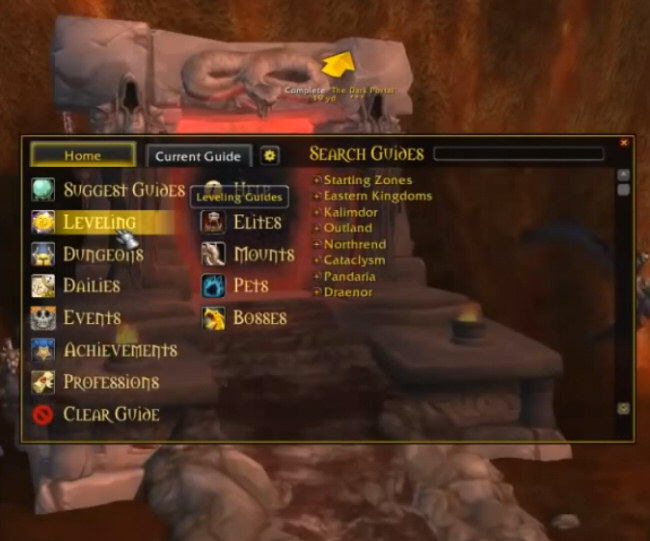 You can purchase Dugi's 90-100 WoD guides here and you can then use it immediately.

Take care and happy gaming!
Joana
Draenor, the new continent for WoD: